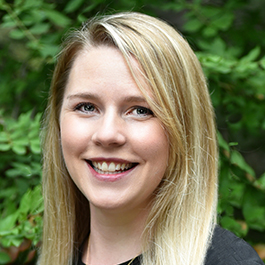 Maggie Waldron
Senior Associate Director
Phone: 
847-467-6392
Email: 
m-waldron@northwestern.edu
Offices: 2133 Sheridan Road, Evanston, IL 60208 (M, W, F)
1800 Sheridan Road, Evanston, IL 60208 (Tu, Th)
Maggie joined the Corporate Engagement as a senior associate director in 2018. In this role, she creates strategic collaborations between corporate partners and faculty that advance both faculty research objectives and the priorities of corporate partners. Maggie works primarily with companies in the biotech, pharmaceutical, medical device, energy, and environmental/sustainability sectors.
Maggie began working for Northwestern in 2010, where she led K-12 STEM education programs through the School of Education and Social Policy (SESP). In this role, Maggie helped launch FUSE – an informal STEM + design education program – and scale it nationwide. After that, she co-led House by Northwestern, a mentoring program for undergraduates in engineering and design, in which students conceived and built an award-winning solar-powered home for the Department of Energy's 2017 Solar Decathlon. Prior to joining Northwestern, Maggie led a field research team studying climate change along the Western Antarctic Peninsula.
Maggie holds a B.A. in biology and environmental studies from Lawrence University and an M.A. in Science Communication from Texas Tech University. Her work evaluating design prototypes through iterative user testing is featured in the textbook, Fundamentals of User-Centered Design (2016). Maggie draws on her various professional experiences as well as her background in science research and design education to support her work with McCormick faculty. Outside of work, Maggie loves to spend time with her family and to garden.
Contact Maggie to discuss engagement opportunities with any of the following schools, units, or centers:
Chemistry of Life Processes Institute
Institute for Sustainability and Energy
International Institute for Nanotechnology
McCormick School of Engineering:

Biomedical Engineering
Center for Engineering Sustainability & Resilience
Civil & Environmental Engineering
Simpson Querrey Institute

Neurobiology (Weinberg College of Arts and Sciences)
Office of Community Education Partnerships 

Office of Professional Education
EMAIL MAGGIE