4-7-Advanced-Manufacturing
Advanced Manufacturing: Progress and Promise
Are you interested in advanced manufacturing and the potential impacts across sectors, including automotive, aerospace, biomedical, and defense?
Recorded Wednesday, April 7th, from 11:00 am to Noon (Central)
Watch Northwestern University's Corporate Engagement team for a webinar on advanced manufacturing, led by Associate Vice President for Research Jian Cao, Cardiss Collins Professor of Mechanical Engineering; Director, Northwestern Initiative on Manufacturing Science and Innovation (NIMSI).
Who Should Participate  
Business and academic leaders interested in learning more about the power of advanced manufacturing.
Join us as we learn about Manufacturing as an integration platform and how we approach advanced manufacturing at Northwestern. Learn about additive manufacturing (3D printing) and how we showcase new processes we have developed, how we have combined physics-based approaches with data-driven machine learning approaches and how we have worked with corporations on joint R&D efforts. Participate in a lively discussion on the global and domestic landscapes of manufacturing business models affected by technological innovations.
Speaker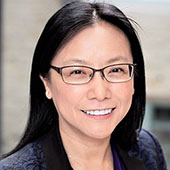 Dr. Jian Cao is the Cardiss Collins Professor, the founding Director of NIMSI, the university research center on manufacturing science and innovation, and an Associate Vice President for Research (AVPR) at Northwestern University. She joined Northwestern after she received her Ph.D. from M.I.T. in 1995.
Cao is an elected Fellow of the American Association for the Advancement of Science (AAAS), ASME, CIRP, and SME. Her major awards include the ASME Milton C. Shaw Manufacturing Research Medal, SME Gold Medal, DoD Vannevar Bush Faculty Fellowship, ASME and Pi Tau Sigma Charles Russ Richards Memorial Award, SME Frederick W. Taylor Research Medal, and ASME Blackall Machine Tool and Gage Award.
Prof. Cao is the Editor-in-Chief of the Journal of Materials Processing Technology. She served as President of the SME North America Manufacturing Research Institute, Chair of ASME Manufacturing Engineering Division, and a program director at the National Science Foundation. She is a recipient of the ASME Dedicated Service Award. She is a member of ASME Manufacturing Public Policy Task Force. As an AVPR, Cao has fostered the collaborations between disciplines across and beyond Northwestern. Cao is a Board member of mHUB, Chicago's first innovation center focused on physical product development and smart manufacturing. 
Format             
This is an informational webinar with an opportunity for Q&A with the speaker at the end. Participation is encouraged.