10-20-coding-as-superpower
Coding as a Superpower: Helping students tap into their creativity and innovation through computer science
Coding as a Superpower: Helping students tap into their creativity and innovation through computer science
Recorded Thursday, October 20 11:00 am -12:00 pm CT
Join Northwestern University's Corporate Engagement team for a webinar on closing the data literacy gap for Black students, led by Professor Marcelo Worsley, Assistant Professor of Learning Sciences and Computer Science at Northwestern University.
Summary
All too often, people think about computer science as a boring desk job where your only collaboration is with computers. This is particularly true among minoritized communities where there may be limited opportunities to explore culturally-sustaining and interest-based Computer Science experiences. In this talk, I will present on-going work from the Black Kids Predict (BKP) Sports Initiative. BKP Sports is a multi-tiered program which immerses youth in learning experiences that combine sports, data science, and physical computing. To date, our programming has reached more than 2,000 students throughout Chicagoland, and has been transformational in helping youth unlock a love for computing and data science. This work has been refueled by a strong coupling among research, community organizations, and corporate partnerships. Hence, I will conclude this talk by describing some of BKP's plans for growth and ways that we are seeking to expand this programming in collaboration with corporate partners.
Speaker Bio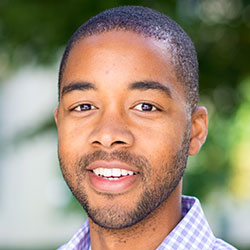 Marcelo Worsley is an Assistant Professor of Computer Science and Learning Sciences at Northwestern University. His research integrates artificial intelligence and data mining with multimodal interfaces to study and support human learning. He directs the technological innovations for inclusive learning and teaching (tiilt) lab which works with community and industry partners around the world to empower people and organizations through the design and use of novel analytic tools. Additionally, he develops pedagogical and technological solutions for supporting learning among minoritized populations.
 Registration is required to attend this free webinar. Upon registration, you will receive a link that is unique to your email address, so please do not share it. The webinar will be recorded and shared with all registrants. Participation in the Q&A is encouraged, you may submit questions in advance when you register or throughout the session.
Northwestern strives to host inclusive, accessible events that enable all individuals, including those with disabilities, to engage fully. Please email to request a disability accommodation. Autogenerated captioning  was available during this event.