AT&T's Education Initiative
AT&T's Education Initiative
The long-standing partnership between AT&T and Northwestern University has led to the creation of new approaches and education initiatives that equip young people with crucial skills for the future of work in science, technology, engineering, and mathematics (STEM). 
Since the 1980s, AT&T, a world leader in communications and technology, has endowed three professorships at Northwestern that continue to support valuable research and scholarship in the STEM realm:
The AT&T Chair in Information Technology (McCormick School of Engineering)
The AT&T Research Professorship (rotates between McCormick and the School of Communication)
The AT&T Junior Faculty Fund (Weinberg College of Arts and Sciences).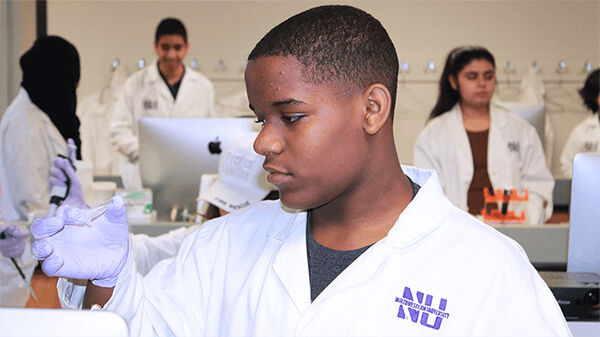 Today, a significant portion of AT&T's philanthropy is focused on supporting STEM education initiatives that promote academic success and science engagement. 
In 2014, the AT&T Foundation announced an ASPIRE grant of nearly $400,000 to support the planning and implementation of the Mather Science Explorers program, a mentor-based STEM initiative administered by Science in Society, Northwestern's research center dedicated to science education and public engagement. 
The Science Explorers program is a collaboration between Mather High School (Chicago Public Schools) and Science in Society designed to help promising students succeed in their freshmen biology classes and acquire the skills needed to flourish in high school. In 2019, the AT&T Foundation awarded an additional $175,000 in funding for the program.
AT&T is also an active recruiter on campus, placing a special focus on employing students from Northwestern Engineering and Kellogg School of Management. At Kellogg, AT&T has hired students directly into its prized Leadership Development program, during which individuals familiarize themselves with various areas of business at AT&T and interact heavily with the company's senior leadership team.
More information about AT&T can be found on the company website.